NOVEMBER 2005:
Just back from a week of casting in Cairo for
Roland Emmerich's 10,000 Years BC
!
Frantically editing auditions! MORE NEWS SOON!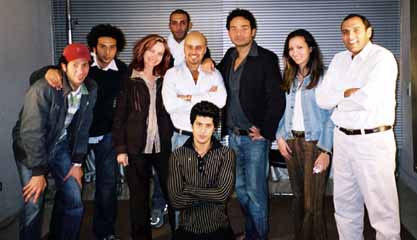 My fantastic Crew at Face To Face agency, Cairo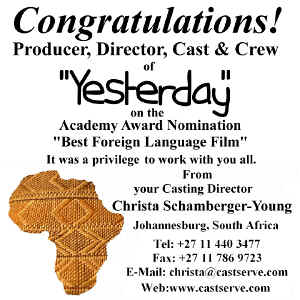 Although the excitement has passed, the memory lives on!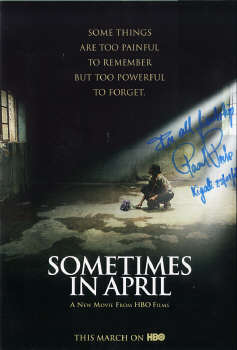 What a Week!

26th January 2005
Spent an emotional afternoon with PAMELA NOMVETE, just back from a life-changing Premiere of "SOMETIMES IN APRIL" in KIGALI, RWANDA.

Director RAOUL PECK kept a promise to the people of Rwanda to let them see the film first and get their approval. Over two nights the entire population of Kigali, it seems, packed the huge Independence Stadium in the city beyond capacity and watched, engrossed as their own story unfolded on a giant screen.
After each viewing, in answer to Raoul Peck's question, the entire population roared their approval. Then, says Pamela, came the most incredible part for anyone who knows Africa: People, who had lived the story they had just seen, solemnly filed home in an absolute silence which hung over the city for hours. "SOMETIMES IN APRIL" stars PAMELA NOMVETE, IDRIS ALBA and DEBRA WINGER

. Watch for it on HBO during March 2005



FIVE OUT OF SIX AT TORONTO!

The TORONTO INTERNATIONAL FILM FESTIVAL, which celebrates a different nation's national cinema each year, has chosen South Africa as the theme this year. South Africa: Ten Years Later looks at South Africa's cinema ten years after the end of apartheid.
Christa Schamberger-Young was Casting Director for five of the feature films in the programme.
RED DUST, the directorial debut from Tom Hooper, will also receive its world premiere as a Gala Presentation. The other films Christa cast are: Ian Gabriel's FORGIVENESS, ZULU LOVE LETTER by Ramadan Suleyman, Mark Bamford's CAPE OF GOOD HOPE, and Darrel Roodt's YESTERDAY.
Official Selection
VENICE FILM FESTIVAL 2004
TORONTO INTERNATIONAL FILM FESTIVAL 2004



August 2004

The first feature film shot entirely in the

IsiZulu

language, premiered to much critical acclaim in Johannesburg. The film has been adopted by The Nelson Mandela Childrens Foundation and will used to facilitate Aids Education countrywide, apart from its theatrical release in September 2004.
The premiere audience found DARREL ROODT'S ultra-low budget film intensely moving because of its honest simplicity.


July 2004


A week long trip to Accra, Ghana to explore casting possibilities for MISSION IMPOSSIBLE 3. (Criuse/Wagner/Paramount British Pictures)
The result was nine hours of very encouraging tape. The high standard of literacy in Ghana, an English Colonial Theatre background and the local TV Soap industry contribute to a small but potentially very useful pool of acting talent for the continent. The enthusiastic and helpful local crew made the trip a very happy experience...



One of the highlights of 2003 - attending the South African Premiere of "STANDER" with Director Bronwen Hughes and South African actor Ashley Taylor (Inspector Cor Deventer)


November 2003


Actress MOSHIDI MOTSHEGWA landed a guest appearance on this popular US show. From the first phone call to signing the contract, casting happened in a week. Auditions were Telestreamed direct to Los Angeles.