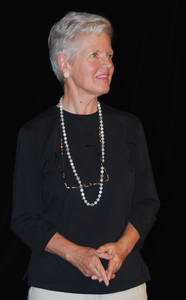 One of South Africa's oldest actors' agencies, Penny Charteris Associates, has closed after nearly thirty years. In an interview with the industry newspaper "The Callsheet" Penny said:
"I've had Rheumatoid Arthritis for nearly thirty years and I have been in pain for some time. Last year when I phoned Elize Labuschagne, the Chair of the PMA (Personal Manager's Association) to let her know I might have to close the Agency, she suggested that we might merge our agencies. I then had an elbow replacement, which was not very successful. What with being in pain long-term and being away from the office so much, I just felt that perhaps the time had come..."
Christa felt that such a milestone could not go unacknowledged, so she arramged "a little get-together" at The Actor's Centre at the Johannesburg Civic Centre. Penny has been an ardent supporter of the Actors Centre since it's inception, and has funded a bursary for a disadvantaged student for several years.
Penny arrived on Sunday morning the 9th of December 2007 thinking that a few of her actors were "going to give the Old Girl a quiet little send-off, you know!"
Well, not quite... right-click HERE to save a Printable PDF file to your computer) [466Kb]