Film makers on a limited budget need to be innovative - and brave!
Michael J. Landon Jr
. had a short movie to make for a religious organisation. Although the events on which the story is based took place in Uganda, it was at first planned to film in South Africa. After discussions with Christa about languages and the cultural authenticity required, Mr. Landon decided to have a second look at the possibility of filming on the real location. A brief return to Uganda persuaded him that it offered the best possibilities for the film.
Much as Christa was eager to revisit East Africa, budget and commitment to other projects in South Africa made that impossible, so the next best thing was to work with good people.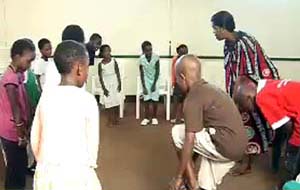 Usually, foreign Directors or Producers seem to sit in on casting sessions in Uganda, but Michael Landon's second scouting trip was of necessity very short. The auditions, therefore, had to be set up from a distance. We were very fortunate to connect with Actress, Director, Playwright and Casting Director
Joanitta Bewulira-Wandera
, who set about finding, auditioning and coaching scores of Ugandan boys and girls for the demanding leading roles.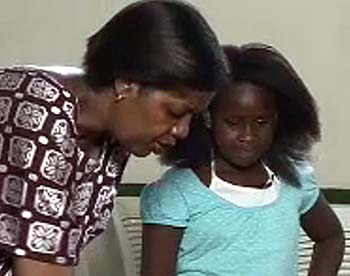 Joanitta did excellent work with the children - as one would expect from a Director! The first uploads from Kampala gave both Christa and Michael a good idea of the range of talent available. It was also clear that we had found a very capable contact!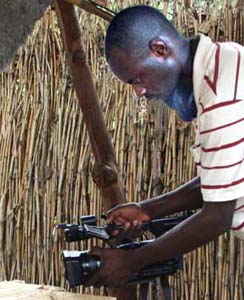 We were also lucky to find
Ali Bakka
, a documentary cameraman of some twelve years experience. Ali has worked for numerous Ugandan, European and American clients over the years, several NGOs, the University of Edinburgh and often for CNN. Encoding and uploading was however a new experience for Ali, but with the help of e-mails, Skype and long telephone conversations, we all climbed the learning curve. It is always a pleasure to work with conscientious and enthusiastic people, and we appreciate Ali's contribution. With foreign producers becoming more adventurous in Africa, we look forward to working with Ali again.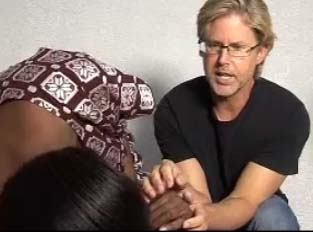 Michael & Joanitta working together to guide the selected children through the Call Backs in Kampala.
(Uganda has an excellent broadband connection to the rest of the world via the SeaCom fibre optic cable which connects South Africa to East Africa, South Asia and Europe.)




---